From Self-Published Novel to Freehand Books Edition
When Winnie Yeung first wrote Homes as a novel in 2015, it was her intention to write it as gift for her then-student Abu Bakr. Winnie felt that a book about Abu Bakr was the best way to honour the al Rabeeah family's incredible journey.
At first, Yeung was simply going to print off three copies: one for Bakr, one for herself, and one for their principal, Brad Burns, who was so encouraging of their work together. But requests for copies continued to come in, and soon, Yeung found herself selling books out of her car trunk. Bolstered by the generous support of her community, Winnie started selling copies of Homes in two independent book stores in Edmonton, splitting the sale proceeds between herself and Bakr. This also gave Winnie the confidence to submit the wee manuscript to four local publishers and as the saying goes, the rest is history!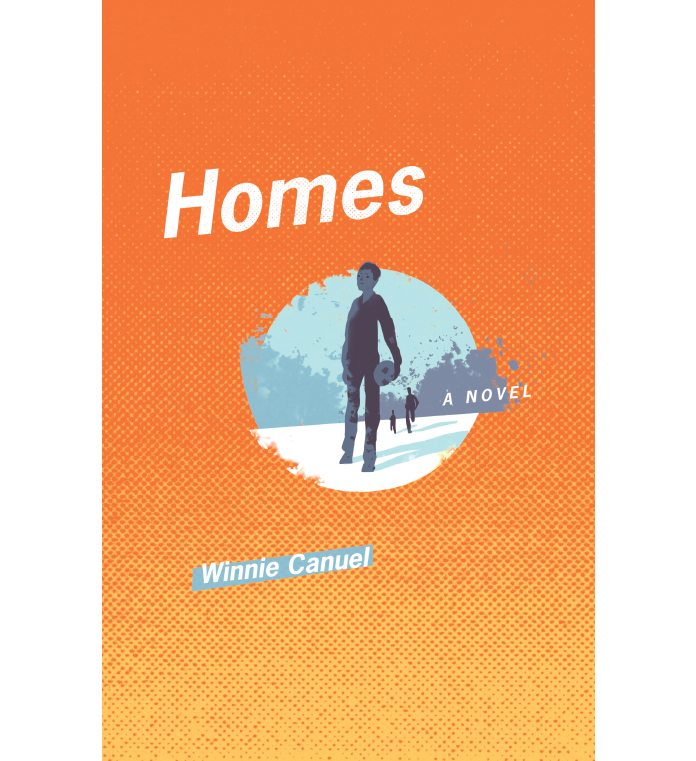 Once Abu Bakr and Winnie signed on with Freehand Books, Winnie got back to work on improving her manuscript with the help of editor, Barbara Scott. Abu Bakr's name was also added as a co-author to acknowledge his role as the star subject and primary story-teller.
For the original manuscript, Yeung rushed to complete it in three months because she wanted to give it to Bakr before he left for high school in June 2016. But now with the gift of extra time, Winnie decided to re-interview the family since their English had improved so much. Over the course of several weeks in the Spring of 2017, the al Rabeeahs gathered together, laughing and arguing over their shared memories. The interviews were stunning; there were so many missed details and events. Suddenly it was no longer Bakr's story, but also his sisters', brothers', and parents'.
This period of growth is very dear to Winnie because it made the book so much richer and stronger. After those interviews, Winnie devoted her entire summer vacation to writing new chapters and revising the entire manuscript. The little orange book was no more.
Notes, Notes, and More Interview Notes…

Winnie is a bit of an old-fashioned soul and rather than recording all her interviews, she frantically scribbled notes instead. As she listened, she would doodle in her sketchbook as a way to digest all the difficult things she was hearing. Here's a peak at Yeung's notebooks:
These notes were the basis of the story about the bullet game.
From those interview notes, Yeung crafted the narrative of Abu Bakr's life. Since his English was limited, Bakr often relied on Google Translate to describe his life. With the help of those translated snippets, Bakr gave Winnie the vague outlines of his life. Where his memory failed him, Winnie used her research and observations to fill out the details of a story in order to give it a sense of vitality and immediacy. In the photo above, you can see how 27 words from an interview became a story of how a young boy played with bullets. This is the true nature of the collaborative work between Winnie and Bakr.
In order to make her words "sound" and "feel" like Abu Bakr was telling the story himself, she listened for the patterns and rhythms of his speech so that it felt like this young man was speaking. Yeung took note of the words and phrases he frequently used, like "sure, sure" and "my god!". She used her observations of the emotional states Bakr was in when he told her stories of his life so that she could infuse her words with his feelings. It was vitally important to Winnie that it felt like Bakr was telling the story, not her.
So while the stories belong to Abu Bakr and his family, the beautiful, subtle prose is the work of Winnie's.
For deeper reading on the writing process, explore the tab "Writings on Homes".
Compare and Contrast
Below is an excerpt from self-published version of the Night of Power chapter. Read it and compare it to the Freehand version (pages 113-123). The self-published version contains only Bakr's account of the event, whereas the Freehand version includes the rest of his family's memories of that traumatic day.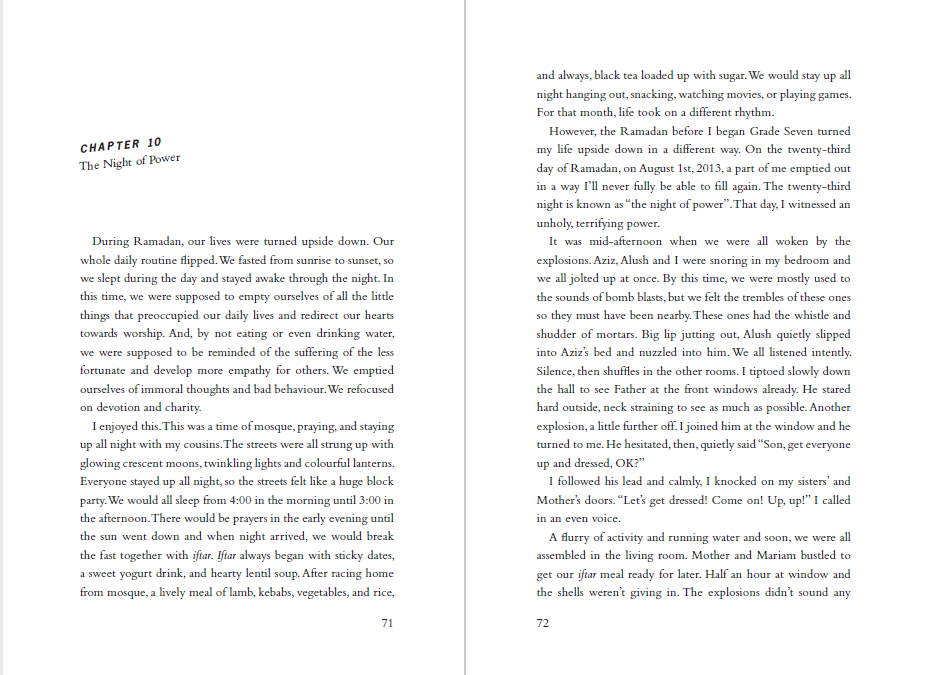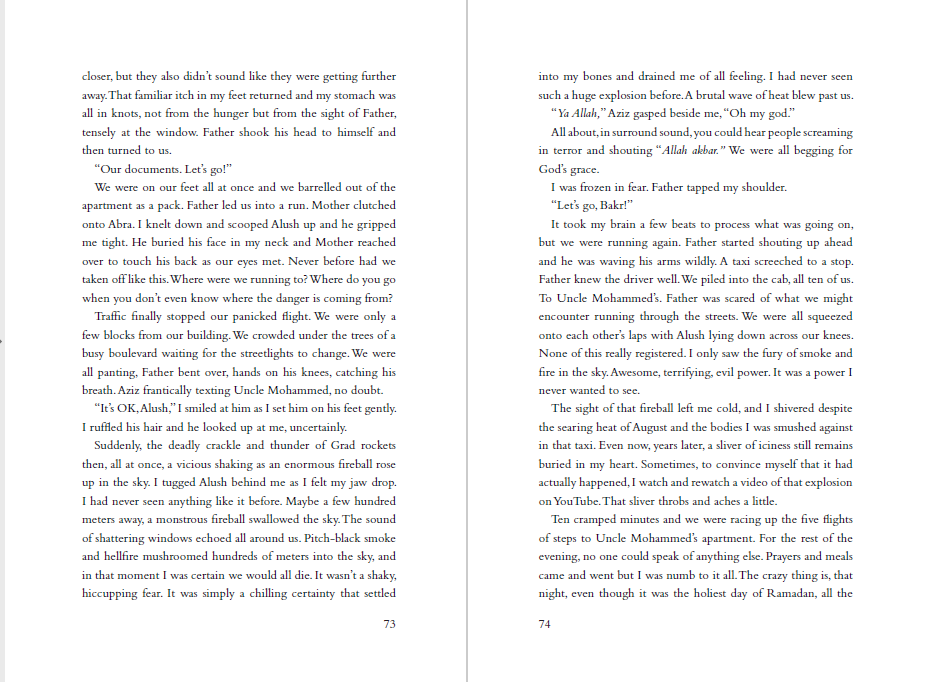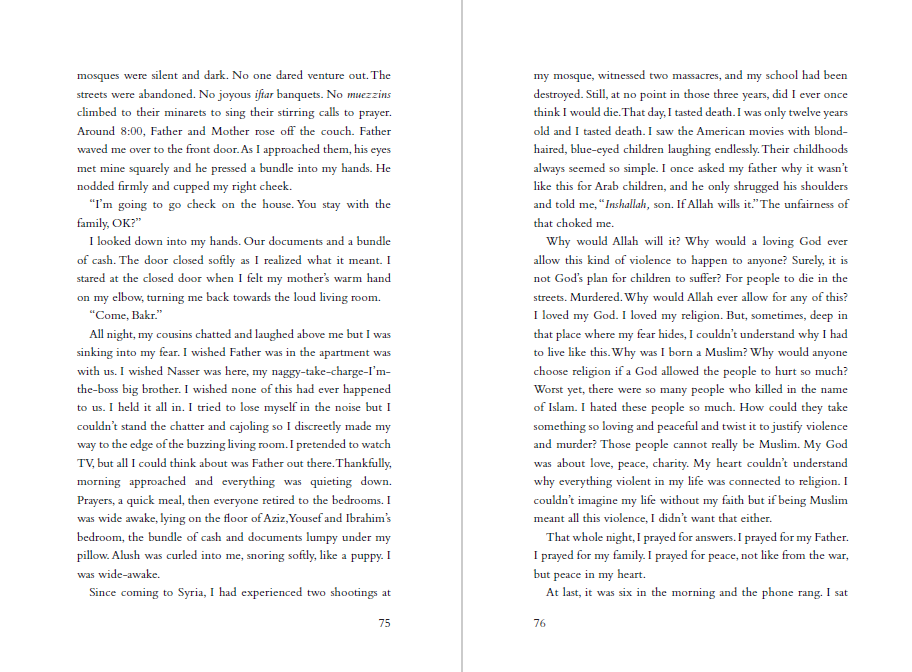 Sketches
Vancouver artist, Jeff Kulak, designed self-published Homes. As a nod to the sketches all over Winnie's notebooks, Kulak also did a series of sweet little drawings that were sprinkled throughout the pages of the original novel. Here is a sampling of the images.